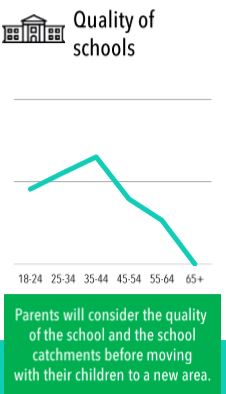 CACI have just published the results of their house movers survey and there is a wealth of information contained within that report, we can leverage for our marketing strategies in independent schools. This article highlights the main findings and illustrates some important considerations for those involved in marketing schools.
We know that parents will consider the quality of the school and the school catchment before moving with their children to a new area. This is nothing new but firstly, it demonstrates the competition coming from state schools and secondly, it highlights the importance of relations with estate agents, relocation agents and developers.
The graph shows the age group most influenced by the quality of the school is 25 – 45 year old's with a definite peak around the late 30's/ early 40's age group. So, we can also define a very specific target age range for our campaigns.
Estate agents, relocation agents and developers know just how important schools are to their target families and it is absolutely in their interests to understand more about them, in order to sell the area to their buyers. Inviting them for a regular tour of the school and meet and greet with key senior leaders is vital. We've also seen very effective use of relocation and estate agent days. And as developers in your area start digging the foundations, it's time to establish relations. Mapping of local schools are often included in sales particulars and you will want to ensure you are not only on the map, but at the very forefront of their mind.
The research also tells us that from late 20's onwards, distance from families is an important consideration. This makes absolute sense, as not only do parents want their grandparents to be a big part of their children's lives, they also need a support network around them as they begin to juggle their careers with childcare. This highlights the importance of marketing to grandparents. They will likely have strong views on the schools in their area and will want to assist in these important decisions – their word of mouth support will be invaluable.
Finally, we've learnt that people relocate 47 minutes from their previous residence, on average. This is an interesting statistic and perhaps highlights that for day schools, who have maybe concentrated their efforts on a 30-minute catchment of their school, spreading the net a little wider may well be worth the investment, particularly if you have a significant number of available places at non-entry points.
At MTM, we specialise in understanding the target markets of independent schools and provide a unique, bespoke, in-depth and insightful analysis into your market.
For more information contact James on james@mtmconsulting.co.uk