The start of the school year is by far the most important; it's the time we start with our intentions and projections for a fruitful year. With that in mind, we are headlining with a reflection on the key themes from 2017/18 and will project what this means for the independent education sector in 2018/19 and beyond.
ISC pupil numbers at highest levels: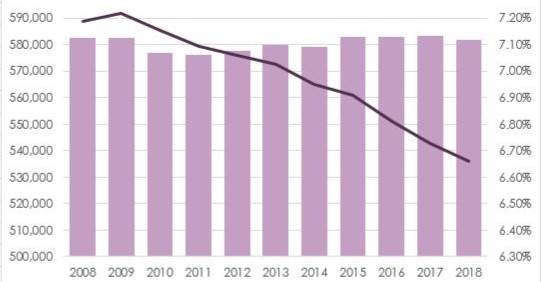 Let's begin with a high. ISC pupil numbers now stand at the highest levels since records began back in 1974, which indicates that the demand for our school places continues. This is a positive indication, however pupil numbers in all schools have risen by 66,000, so you could argue that a rise is to be expected. Independent school pupils have not increased in line with the population growth, and, with more schools, there are now more places to fill. Prep school pupil numbers have notably declined.
This means that we can never be complacent.
We've calculated that the average parent lifetime value of an all-through school is £414,369, which means that each and every available place can make a huge difference to the bottom line.
School leaders must strive to offer the best all-round education, in a way that differentiates them from the competition and not only offers a superior educational experience, but also communicates the same message effectively. The prospective parent is Prince (my adaptation of 'Customer is King')! Marketing & Admissions need to be represented at the senior management table and they must be involved with decision-making regarding the future direction of the school.
Do you know what market share you hold in your locality? Do you know the size of your available market? Do you know what their priorities are when it comes to an independent education? Without this information, you cannot possibly satisfy their requirements. Investing in knowing your market is the only way to ensure that you can meet their needs and guarantee a sustainable future for your school.
Global Outlook
We are the envy of the world and we continue to attract large numbers of overseas pupils as well as investors. Overseas interest in the UK independent education market has heightened with increasing numbers looking to invest in successful schools, which in turn are commanding a premium price. Unsurprisingly investors are seeking a clear overview of their revenues and expenditure.
Jennifer Gill, Senior Surveyor – Childcare & Education Christie & Co, has observed that despite issues facing the sector there is still demand for independent education settings:
"Undoubtedly, Brexit will bring a different perspective on investment but to what degree, remains unclear whilst so little is in place. Despite this uncertainty, we have experienced no slow down in international enquiries, with interest from both an investment and franchise angle continuing to be a topic of conversation. Many are relishing the prospect of the overseas expansion and development opportunities, with the market witnessing a rise in the number of Britain's private schools establishing their brands overseas, whilst others are firm in maintaining their home grown brand and reputation. Equally, the impact of encouraging international students to remain at home to receive a 'British Education' on their own doorstep continues to divide opinion."
The best schools have their digits on the digits at all times. They are finding creative ways to cut costs and / or find additional revenue streams as well as regularly running financial health checks.
Affordability
Affordability continues to be an area of concern for the sector, with fees rising well above inflation at 21% in the last five years.
Ignore this at your peril.
Many schools have approached us to assist with parental research. The most forward-thinking schools are asking their parents and pupils what aspects of their school are most important to them, in order to identify where they can streamline their provision and offer more competitive fees. This will not only give schools a competitive edge but it will open up a much wider section of the market.
VAT relief
The Scottish government has controversially announced plans to remove independent school's charitable relief by 2020, which independent schools have been able to claim as charities. And if Labour were to come into power, the rest of the country will soon be following suit. This would see some of the best-known schools facing bills running into six figures, but with fees already rising well above the rate of inflation, this could make for a very uncertain future.
MTM Managing Partner David Cardle offers his advice:
"Schools need to start contingency planning now. It cannot be assumed that parents will just pay additional fees. We know from our work with over 180,000 independent school parents that for many, sending their child to a private school means considerable sacrifice.

Schools need to start looking at creative ways to make savings and adapt their provision. Financial advice on reducing costs without diluting standards here will no doubt be invaluable to their future success, but understanding your market is more important than ever."
Charitable status
The ISC census has 296 'for profit' schools amongst its associations but it is estimated there are some 1,082 proprietor schools in total. The proprietor-owned schools tend to offer fees around 5 – 10% less and, of course, are already paying full business rates on a lower income.
This year a trend is beginning, in line with the interest of investors (and perhaps the threat of VAT charges) for schools to 'do away' with their charitable status, in favour of a 'for profit' approach. In our view, this will only increase the level of competition.
Brexit
It is no coincidence that I've left Brexit until the end. No one knows what the repercussions of Brexit will mean for independent schools, and it is the not knowing that causes this anxiety and uncertainty. Independent schools who serve an international market, will see this as a potential threat.
The Independent Schools Council has said in a recent statement: "We will expect, in time, to see changes to legislation which are specifically relevant to schools. It is especially likely that this will concern international pupils in our schools."
Leaders of independent schools will need to look at how we can reassure our current and international students and their families as to what the future holds for them in the UK. Overseas recruitment must continue but with a broad mix of EU and non-EU countries and forecasts must be more conservative.
Summary
In one sentence:
Forecast conservatively and market ferociously.