MTM Consulting – market research, analysis and strategies for success in the business of education
We at MTM Consulting are experts in education market research, analysis and real-world recommendations, which are focused on driving organisations further.
For more than 35 years, MTM Consulting has conducted market research and supported schools (state and independent), universities and other education providers to remain in business and to develop and thrive, whatever the economic climate. We provide solid data, insightful analysis and clear recommendations to enable organisations to plan for future stability and success and to uphold their responsibilities to parents who entrust them with their children's education.
In fact, we've worked with more than 500 schools and researched more than 250,000 parents. Our feasibility studies, supply and demand analyses and stakeholder research projects are all designed to help school business leaders to:
understand the potential of their organisation's market
where they stand against their competitors
what the market wants and what it does not want
equip them with the information they need to make the right decisions going forward
We can tell you…
…and much more!
MTM has access to UK-wide demographic data, the skills to analyse it, and a wealth of industry specific experience. This enables us to make recommendations that will show you how your organisation can capitalise on its potential.
We love working with education providers and we want to see them succeed.
Call or email our friendly team and we will work with you to drive your organisation forward!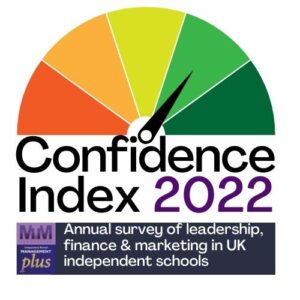 Please participate in our new annual survey of the UK independent education sector!
If you're a headteacher, bursar, marketing or admissions professional in a UK independent school we invite you to share your views of the sector with us and out partner Independent School Management Plus in The Confidence Index 2022, our new annual online survey designed to provide an ongoing barometer of the leadership, finance and marketing elements of the UK independent schools sector.
It only takes five minutes, so click the button below to get started…
MTM 3-60
Get a clear view of your school's current position and where to recruit the pupils of the future with MTM 3-60, a thorough in-depth demand and supply analysis.
This market intelligence gives you the confidence to make the right decisions on your marketing activities – to focus your time, resources and budget on areas that are most likely to result in increased pupil recruitment and retention for your school.
Analyse admissions data at a click!
MTM's new online tool gives you an instant overview of your school or education organisation's admissions performance – however, whenever and wherever you want it. With a few clicks you can analyse your admissions data to show conversion rates, trends and other comparisons and analysis that is most useful to you. Reporting is instant too – generate attractive and clear infographics in seconds to use in reports and presentations.
Get the school admissions Advantage!
Advantage is the complete system for school admissions data management + sharp analysis. It gives you the big picture – allowing you to easily log admissions information day-to-day and then analyse it for an instant overview of the admissions pipeline and the opportunity to convert more enquiries to acceptance, and boost your school's recruitment.
What our client schools say about MTM
'Working with MTM, a most professional organisation, has been both affirming and illuminating. They knew exactly what we sought, were delightful people with whom to work and provided us with their research within a clear, interactive format within the promised timescale. On the basis of their initial work on our behalf, we have extended their remit with an additional project and continue to be the beneficiary of their expertise. I wholeheartedly recommend MTM.'
'I am hugely impressed with the manner in which MTM have handled our data and their Director of Research, James Leggett, has been extremely good at distilling the pertinent facts and presenting them to the school in an easy to understand and display format. I cannot recommend them more highly for their outstanding service provision to the school this year.'
'The insights provided by MTM have been invaluable to the continued success of Banstead. Whilst the raw data is extremely detailed, it has been presented in a way that is concise and easy to understand, enabling us to create an admissions and marketing plan that is strategic and targeted, helping us build our brand and our school.'
'It is vital to be informed about the demographic trends in our area. In a fast-growing school it is invaluable to know when and where the demand will come to ensure we are ready, with space, to service it. The work by James and the team at MTM will inform our marketing campaigns in the years to come. I thoroughly recommend MTM's services.'
'Working with MTM was a very positive experience – the team were professional, objective and constructive and I would certainly recommend MTM to other school leaders with significant decisions to make.'
'Thanks to MTM's analysis, we were able to create and deliver a highly effective marketing strategy, which exceeded even our best expectations. The market research was crucial in ensuring that we knew which areas to target, with what messages, and the best channels to use to engage prospective parents. The MTM team were great – knowledgeable, professional and approachable – and I have been grateful for their ongoing support and advice.'
Case studies
At MTM, we are passionate about what we do, and we pride ourselves on providing an excellent level of service to our clients. But don't take our word for it, see what our clients have to say:
Maddie Norris
2022-05-13T10:48:06+01:00
The desire to provide the best learning environment for its 200 pupils with specific learning differences was the impetus for [...]
Nicky Adams
2022-03-31T11:00:35+01:00
Reconfiguring the teaching spaces at The Mall School in Twickenham left an empty building that looked to be the ideal [...]
Nicky Adams
2022-03-31T11:00:59+01:00
The most successful schools are constantly considering how to sustain and enhance pupil recruitment – and Manchester High School for [...]