"What does the data mean for independent schools?" – MTM's census response.
James Leggett, Managing Director, offers his thoughts on navigating the year ahead…
At MTM Consulting, we deal in accuracy of data, facts and figures in order to provide clarity and insight which will inform long term strategic decision-making. Whilst the ISC census always makes for interesting reading, notably the 'like for like' comparison tables, it only includes ISC member schools. For a true vision of the independent education sector, we use the Department for Education census, a self-completed position as at the third Thursday in January. This year, aligned with the ISC report, it does indeed make for positive reading, but storm clouds certainly lie ahead for the unprepared. Below are our thoughts on the DfE findings and our census response.
The number of children in fee-charging independent schools is up by 2.1% (12,061) from 2021, compared to an increase of 1% in the state-maintained sector – you could therefore argue that independent school numbers have grown faster than those in the state sector which have only grown by 0.9%.
However, that should be tempered by the fact that in 2021 all schools were technically closed on the third Thursday in January to due to Covid restrictions – and there is evidence that four year olds who would typically have been in school at that time were kept at home. There was a greater prevalence of this in the independent sector. However, the five year picture, smoothing Brexit & Covid variables, shows that the state-maintained sector has grown by 3.3% since 2018, whilst independent schools have remained broadly static (-0.1%).
Furthermore, the number of boarders appears to have still taken a relative hit this year at 64,885. Although up from last year (57,305), there is not a return to the numbers of 2016, whilst pre-pandemic numbers still highlighted a gradual decline in boarding with a contraction of 2.5% between 2016 and 2020. Whilst the data does not highlight whether they were UK-based boarders or from international families, it does contextualise the challenges many boarding schools are facing.
The number of 5 year olds versus 11 year olds in English schools
Another area in which MTM has been taking a great interest is Reception. The passing of the birth rate boom will inevitably lead to smaller numbers at the lower end of schools moving forward, and for many, Reception is a key point of intake.
This decline is certainly a strategic challenge that many Boards will be contemplating at their meetings this term together with intriguing data for secondary-aged students at Year 7.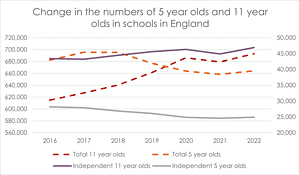 The graph above shows a contraction in the number of five year olds moving at a similar pace to the overall numbers whilst eleven year olds have not increased at the same higher rate as the state sector. Similarly, five year olds have contracted faster in independent schools since 2016 (-11%) than within the state-maintained sector. There is at least some positivity in the statistic that the number of eleven year olds in all schools has increased by 12.7% – even though there is a lag at independent schools (an increase of 7.9%) – because it is suggestive that a market share exists for independent schools to tap into, if they are able and willing to do so. For example, this correlates favourably with the increasing amount of 13+ preparatory schools who have, or are in the process of, extending their provision up to GCSE. Given the overt, positive discrimination by Russell Group universities for maintained sixth form applicants, there is a lot to be said for this new model whereby parents can use the independent sector for their child at the secondary age range before applying to a well-regarded sixth form college.
Preparing for the future
In summary, whilst the modest increase in pupil numbers in the independent sector is a strong testament to all the hard work being put in by school leaders, further creativity and resourcefulness will be required to maintain the status quo in the months and years ahead. Trustees should be aware that recruitment for boarding and Reception pupils will be especially challenging. However, opportunities exist to maintain positive numbers on roll if schools are prepared to adapt to the market.
For further detail on the changes in your local areas, how these changes will impact your pipeline and the opportunities and challenges that they may present, please contact the MTM team.
MTM Consulting specialises in the formulation of market-leading data for schools with the option of bespoke strategic planning and delivery. For a confidential, no-obligation chat, please contact:
James Leggett: james@mtmconsulting.co.uk
Daniel Cohen: danielc@mtmconsulting.co.uk
MTM – What do we do?
We at MTM Consulting are experts in education market research, analysis and real-world recommendations, which are focused on driving organisations further.
For more than 35 years, MTM Consulting has conducted market research and supported schools (state and independent), universities and other education providers to remain in business and to develop and thrive, whatever the economic climate. We provide solid data, insightful analysis and clear recommendations to enable organisations to plan for future stability and success and to uphold their responsibilities to parents who entrust them with their children's education.
In fact, we've worked with more than 500 schools and researched more than 250,000 parents. Our feasibility studies, supply and demand analyses and stakeholder research projects are all designed to help school business leaders to:
understand the potential of their organisation's market
where they stand against their competitors
what the market wants and what it does not want
equip them with the information and strategy they need to make the right decisions
MTM has access to UK-wide demographic data, the skills to analyse it, and a wealth of industry specific experience. This enables us to make recommendations that will show you how your organisation can capitalise on its potential.
We love working with education providers and we want to see them succeed.